The GVIN membership regularly throughout the year participates in local community projects and celebrations. Explore the projects, links, and event announcements below to see what we've been up to… what is planned ahead… and join us when you can.
---
2023 Announcements – More Coming Soon
September 9, 2023 – Pride in the Park. A "People Parade" starts at 2:00p on Saturday at the corner of 12th & Gunnison. Other festivity details below.
October 14, 2023 – GVIN's Fall Food Drive. See CALENDAR. More details to come.
November 15-21, 2023 – Interfaith Awareness Week (IAW). Details to follow.
November 21, 2023 – ThanksGVIN service and IAW celebration.
---
For EVENT items to be updated or placed on this website, or any other site corrections, please send an email to [email protected].
Event postings may also be found on our Facebook page: https://www.facebook.com/GrandValleyInterfaithNetwork
Recordings of past events are posted to our YouTube account: https://www.youtube.com/@grandvalleyinterfaithnetwo1857
---
Past Events
Oct. 16, 2021 (Sat.) – Food Drive
On Saturday, October 16, 2021 (9:00a-Noon), Grand Valley Interfaith Network (GVIN) is hosting its "Fall Foods Day," which is a food drive to benefit six local food banks that feed people from Palisade to Fruita. All spiritual communities, non-faith based organizations, and individuals are invited to participate!
Grocery bags are provided that have specific food lists attached so that the foods most needed are provided. The food banks being served by this event are: Child and Migrant Services, Community Food Bank, Clifton Christian Church Food Pantry, Grand Valley Catholic Outreach, Kids Aide, and Grand Valley Peace & Justice.These agencies will be present at the drop-off location to accept and load your generous donations into their respective vehicles and provide information about how they serve in the community.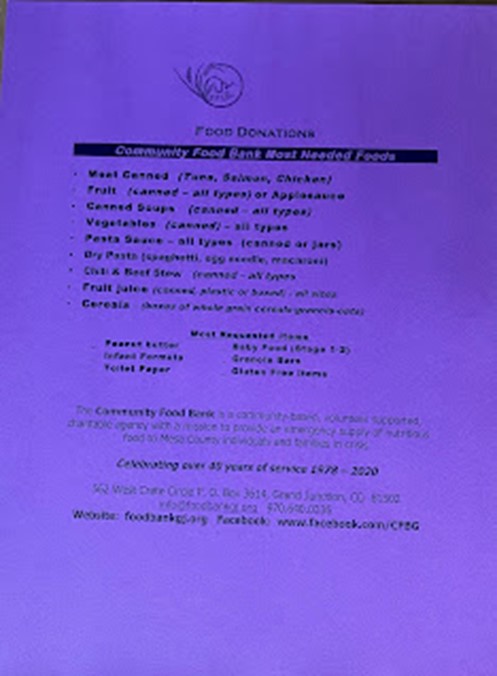 You can pick up grocery bags (with shopping lists attached) Monday through Thursday (9:00a to 2:00p) at the Grand Valley Peace & Justice resource desk, at the Office Suites entrance of 740 Gunnison of The Center for Independence. The P&J contact is Sherry Cole at [email protected] or 970.261.7695.
Drop-off on Oct. 16, 2021 will be in the east parking lot of the Downtown Vineyard Church (northwest corner of 5th and Grand Ave.). All are welcome to participate so that all may receive! The desired food/lists follow.
* * * * * *
Sept. 12, 2021 (Sunday) – Pride Parade
GVIN will have a presence at the annual Grand Junction Pride Parade on Sunday morning, September 12. Members and Friends will join with the group from Unitarian Universalists of the Grand Valley to display banners and ribbons and other positive messages in support of the LGBTQIA community. Be part of this welcoming group of individuals; show community support at this year's event.
* * * * * *
June 19, 2021 (Saturday) 4-7p – Juneteenth Celebration
Visit GVIN members at their canopy/booth on Saturday at Lincoln Park (southeast corner of 12th and North) as we lend our spirit to the Juneteenth Celebration in Grand Junction. Find out about GVIN's projects in the community and pick up a brochure that describes its Interfaith focus. We look forward to meeting you! This event is hosted by Black Citizens and Friends. Guest speakers begin at 5:30p.
* * * * * *
May 15, 2021 (Saturday) –
May Day Food Day…
Join GVIN in a food drive to benefit five local food banks that feed people from Palisade to Fruita. All spiritual communities, non-faith based organizations, and individuals are invited to participate!
Print a grocery shopping list (or save the image to your device). Each list is unique to each of the organizations.
Fill a box or bag with the items on the list(s).
Bring the box or bag of food items to the drop-off location on Saturday, May 15 between 9:00a.m. and Noon.
Drop-off at Downtown Vineyard Church – east parking lot / northwest corner of 5th and Grand Avenue